Are you planning ahead for an event next Winter?
Winter in Verona can be one of the best times of the year for relaxing, resting, and rejuvenating. Taking time to slow down and enjoy the beauty of the season, spend time with those you care for, and cozy up beside a fireplace can be an excellent way to refresh your mind and body. A retreat of this sort can also be a great way to refresh, motivate or connect with your group, whether that be business, leisure, or organizational. Being a suburb of Madison, Verona is a perfect location for escaping the bustle of the city and reconnecting with yourself and others while embracing the small town charm. Here are a few ways to have a restful retreat this winter season in Verona.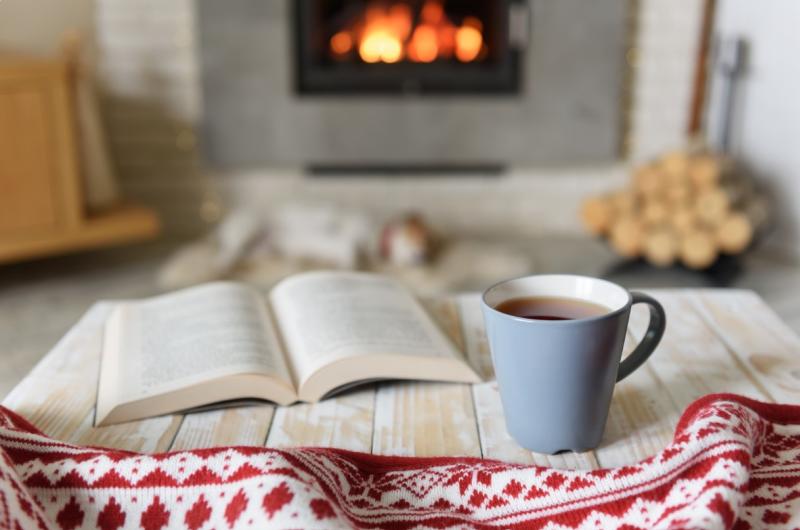 Photo by Smitt
Practice Hygge
Hygge is an idea that comes from the Danish and Norwegians that entails embodying a mood of coziness and friendliness along with feelings of wellness and contentment. Practicing hygge can be great for personal growth as well as group connection, making it a useful tool for a restful retreat. Visitors can embrace hygge while on a winter retreat in Verona to add to the experience of relaxing and restoring during their stay. One way to embrace hygge in Verona is by keeping it in mind while planning your trip. Maybe you look for vacation rentals for your group with indoor fireplaces or outdoor fire pits, or book the coziest cabin in the woods that you can find. Packing extra blankets, flannels, candles, and books are another great way to embody hygge on your retreat.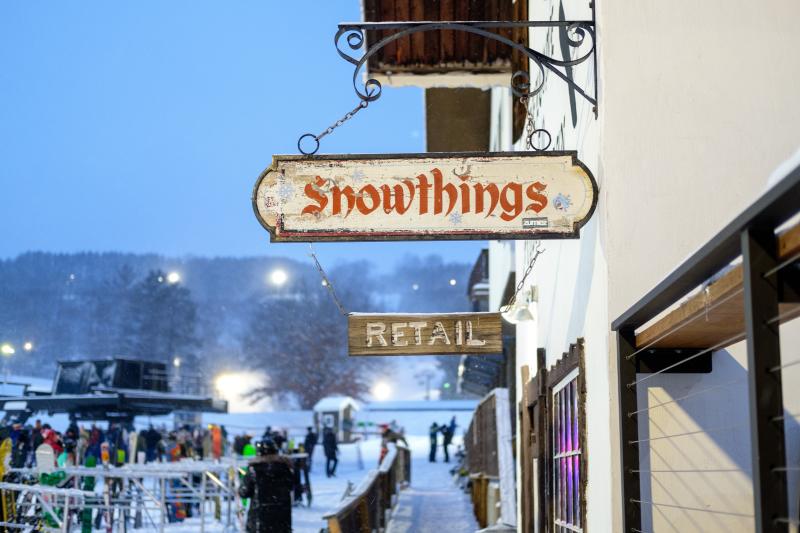 Embrace the Winter Wonderland
With its location in southwestern Wisconsin, Verona is home to all four seasons each year. With winter comes colder temperatures, and of course ice and snow! However the wintery weather creates a beautiful natural environment that encourages slowing down to marvel at mother nature's handiwork. Verona offers visitors plenty of public outdoor spaces to bundle up, embrace the cold and enjoy the peacefulness of nature. One place to start is on Verona's uncrowded hiking and walking trails, like the Ice Age National Scenic Trail or Badger Prairie County Park. A solo hike can be perfect for clearing your mind, or visitors can opt for a group hike to bond and connect with those they are gathering with and end the day feeling accomplished and motivated.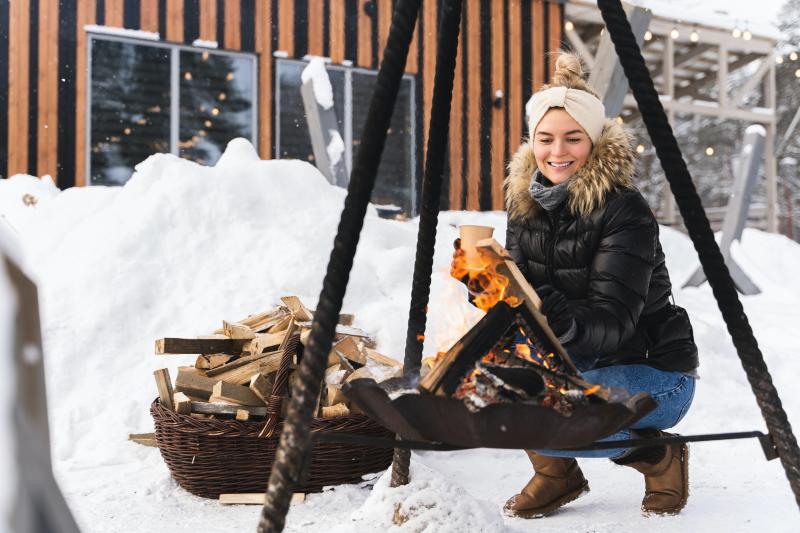 Outdoor Ice Skating and Fire Pits
Along with winter hiking or a casual moonlit winter walk, ice skating is another relaxing way to spend time outside in the winter. Elver Park Ice Skating is one place to discover in Verona where visitors can rent skates and hit the ice right in the outdoors. Madison also has ice skating at Tenney Park, if you want to travel 15 minutes to the city. If you prefer to stay warm while you take in the beauty of winter, there are public fire pits where you can sit and embrace winter in Wisconsin while heating up by a cozy fire.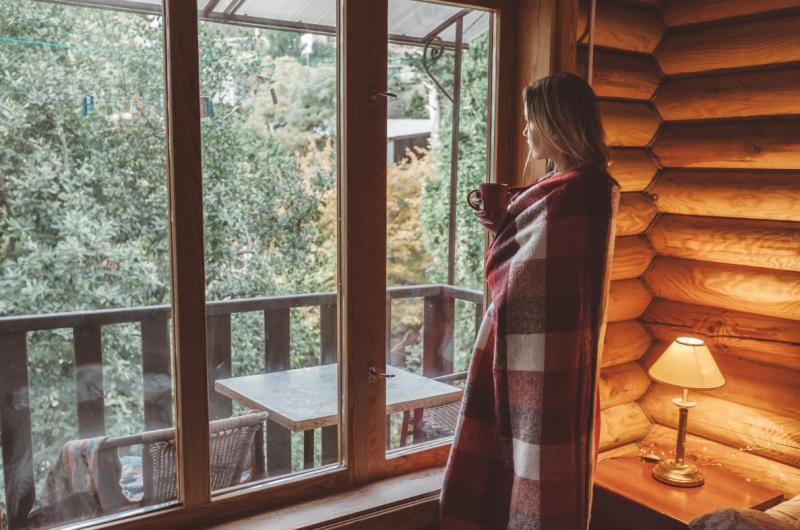 Photo by Alena Ozerova
Rent a Cozy Cabin
An important part of any retreat is booking a cozy place to stay. Verona has a range of excellent hotels right in town that offer first-rate accommodations. But if you really want to practice hygge or stay somewhere with a bit more privacy and quiet for your group gathering, renting a local vacation rental might be a better option for you. There are a range of cozy rental options throughout Verona and the neighboring communities that visitors can book for a weekend retreat. Check out the Prevailing Winds Lodge or Seven Acre Dairy. Vacation rentals can open up the possibility of a range of amenities such as hot tubs, comfy and private gathering spaces, fireplaces and private outdoor fire pits. Plus, if visitors are looking to accommodate a larger group vacation rentals offer more rooms that encourage groups to stay connected and interact.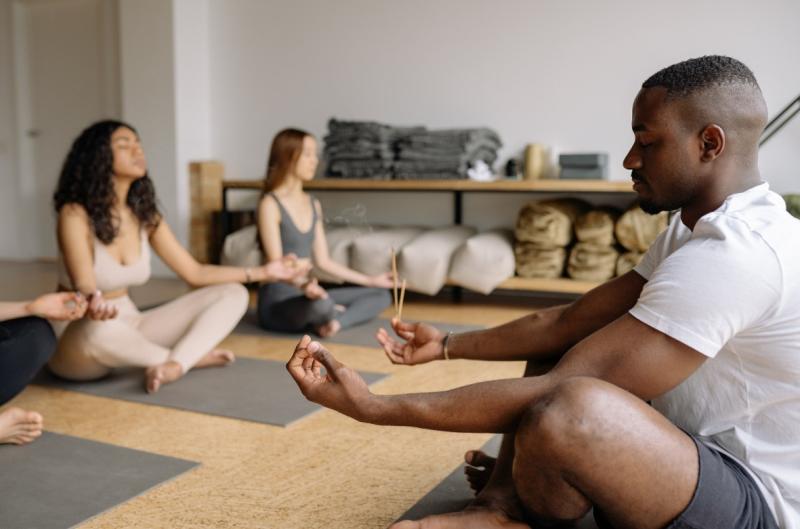 Photo by Yan Krukov
Restore with Yoga & Meditation
Another way to relax on your retreat is to practice some yoga and meditation. Whether you book a private yoga session or join in on a group class, instructors can guide you through a relaxing session to clear your mind and reconnect with your body. Meditation can also help with relaxing the body and restoring the mind, and there are many ways you can do this all on your own during your retreat. If visitors are bringing a group to Verona, yoga and meditation can be helpful tools for releasing stress and taking time to be thoughtful about their group members and their niche. Bringing a book along to read next to the fireplace or enjoying a cup of a warm beverage while you watch the sun rise are just a few ideas.